Motivate your staff with the Sigma Recruitment World Cup challenge game!
We all know that motivated, engaged and happy employees are more likely to be productive and successful. The challenge for HR professionals and business leaders is keeping staff engaged, motivated and happy.
In fact according to a CIPD report only 36% of staff are actively engaged with 60% being neutral and 3% disengaged. Further to this Forbes report that the happiest staff are up to 50% more productive in the workplace.
Using sporting events to motivate staff and create a happy working environment.
Every year when the Grand National race takes place, offices up and down the country organise office sweeps and this creates a great feeling of excitement within the workplace. If you could take this enthusiasm and make it last for the 5 week period of the World Cup, just imagine how you may be able to improve morale, motivation and drive up productivity!
Sigma Recruitment has recently designed a World Cup challenge, using one of the world's largest sporting events to generate a feel good factor amongst our team. We wanted to share what we have created with our clients because we feel that it could have a big impact on staff morale.
Smaller Companies – ideas on how to organise the challenge
Ask staff to pick the first 4 places (winner, runner up, 3rd and 4th place) and provide a tiebreak question, for example how many goals will England score in the 2014 World Cup?
Offer a prize for first place, the prize big or small helps with the feel good factor and increases staff buy in!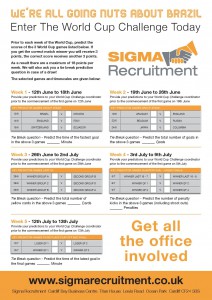 Larger Companies – ideas on how to organise the challenge
We have designed our own World Cup Challenge which involves staff predicting the scores for 3 chosen games each week of the competition. The template of our World Cup Challenge Motivational Event Flyer can be downloaded here – please feel free to print it out and use it in your office.
Appoint a challenge coordinator
Weekly predictions and tie breaker question to be submitted by a set date, to the coordinator
Coordinator to announce weekly winner and prize each week via intranet / email.
Weekly prizes to suit your budget.
Tailor the competition to drive performance.
Feel free to modify expand our challenge game as you see fit. How about linking the competition to work based performance? For example Sigma Recruitment are following the smaller company completion model and will award high performing staff more than one entry if they hit predefined targets.
Prize ideas
Bottles / cases of Brazilian wine
Vouchers for Brazilian restaurants, yes there is one in Cardiff!
Vouchers for high street shops
Please do keep us updated on how the challenge worked for your company.