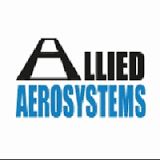 Allied Aerosystems was established in 1998 and provides services to test and calibrate engineered products used primarily within the aerospace sector. In recent years with Welsh Government support, backed by EU funding, the Treforest-based company has been able to strategically invest in new machinery which has allowed it to penetrate new markets, open a new premises in Taff's Well, and grow its workforce.
Welsh Government support has allowed Allied Aerosystems to invest in an Electromechanical 60 metric tonne mechanical testing system. The versatility of the machinery allows for a variety of different tests to be carried out. These tests can be done on various different materials, and is commonly used for testing high-strength metals and alloys, aerospace and automotive structures, and other engineered products.
To read more about Treforest based Allied Aerosystems success visit the government website –  Business Wales.