Why you should consider PCI Pharma Services for your next career move
About PCI Pharma Services UK
PCI is an integrated full-service provider and a trusted partner to leading companies in the global healthcare industry. We offer unparalleled expertise and experience in taking compounds from the earliest stages of development through to commercial launch, delivering speed to market and commercial success for our customers. Core services include analytical services, formulation development, clinical trial supply, commercial manufacturing and packaging, QP services, supply chain management, storage and distribution. From four sites in South Wales, PCI's European operations deliver a fully integrated Molecule to Market offering for clients. Utilising leading-edge technology and unparalleled expertise, PCI pharma services address global drug development needs at each stage of the product life cycle, for even the most challenging applications.
PCI Pharma Services Bridgend 
With considerable investment in specialist capability, PCI's Bridgend location offers both extensive secondary packaging and labelling expertise coupled with unrivalled capability for supporting a considerable range of Cold Chain and Ultra Cold Chain product needs, including the expertise and infrastructure to support preparation, storage and global distribution of cell therapies and Advanced Therapeutic Medicinal Products (ATMP) with cryogenic temperature requirements down to -196ºC. The site also supports bespoke client needs with custom solutions for each developing therapy, partnering with clients to identify the optimal solution for each challenging temperature sensitive application.
PCI Pharma Services Hay on Wye
With the extensive capability for both clinical and commercial packaging and labelling activities, the Hay-on-Wye site offers clients a robust solution for primary and secondary packaging of a variety of drug delivery forms. PCI's expertise and investments in leading packaging technologies create solutions for speed-to-market and efficiency in drug supply. Scalable packaging technologies allow us to grow and evolve as project needs change through the product life cycle, from early phase clinical development and growth into large scale clinical supply, commercial launch, and ongoing global supply. PCI offers bespoke packaging solutions for challenging applications at its Hay facilities, including modified environments for light and moisture sensitive products, Cold Chain solutions for temperature-sensitive products and biologics, specialist facilities for packaging of potent compounds, as well as offering one of the largest controlled drug vaults in all of Europe.
PCI Pharma Services Tredegar
With unparalleled capability in contained manufacture of potent compounds, our Tredegar site excels as PCI's centre of excellence for drug manufacture. Significant investment in cutting edge technologies and world-class award-winning facility design has enabled a truly market-leading service for the development and manufacture of clinical and commercial-scale products. Services include formulation and analytical development, clinical trial supply, and commercial manufacturing of solid oral dose, powders, liquids and semisolids, supported by in-house packaging and labelling services and on-site laboratory services.
PCI Pharma Services Treforest
Specialising in Clinical trial logistical services, PCI's Treforest facility is strategically located to take advantage of its UK geographic conveniences and proximity to both London and Cardiff in supplying investigational medicines to patients around the world. Storage, distribution and returns management of IMP materials all happens at this 23,000 sq.ft. purpose-built facility, stationed conveniently near the M4 corridor.
You can view the full PCI company guide here
PCI Pharma Services in the news
A visit from the Welsh Secretary – full story
PCI adds 37,500 sq ft of space – full story.
PCI Pharma acquires Sherpa Clinical Packaging (Sherpa) – full story.
Job and Careers at PCI Pharma Services
As an expanding business PCI regularly recruits new colleagues, typical positions include:-
Clinical Project Managers
Quality Assurance (QA) positions
Clinical Supply Managers
Qualified Persons (QP)
Graduate Project Managers
Business Development
Compliance
For more information on Sigma Recruitments pharmaceutical recruitment experience please visit our pharmaceutical recruitment page.
Interested in working for PCI pharma services? Please submit a current CV and Sigma Recruitment will contact you to discuss any current positions.
Locations
Bridgend Site
Biotec House Central Park
Bridgend
CF31 3RT
View location in Google Maps
About Bridgend, situated in South Wales, 18-miles (29 km) west of the capital Cardiff, Bridgend sits at a confluence of three rivers, the River Ogmore, the Llynfi River and the Garw River. Named in the 15th Century, Bridgend literally means 'The main bridge on the River Ogmore' after a stone bridge was built to connect (permanently) each side of the River. Originally this bridge had four arches but in the 18th century, a massive flood washed two of them away. The rest of the bridge still stands and still remains a focal point of the town.
Hay-on-Wye
Wye Valley Business Park,
Haye-On-Wye
HR3 5PG
The town of Hay-on-Wye is located on the Welsh and English borders and has an approximate population of 1500 people. The town lies at the northernmost point of the Brecon Beacons National Park, standing on the southern side of the River Wye. Across the river to the north are the green hills of Radnorshire, to the south and west lies the glorious range of the Black Mountains. To the east is the Golden Valley, part of the cultivated farmlands of Herefordshire. Hay is situated in some of the most varied and beautiful countryside the British Isles has to offer.
Tredegar 
Tafarnaubach Industrial Estate,
23-24, Tafarnaubach,
Tredegar
NP22 3AA
Situated at the north end of the Sirhowy Valley in South Wales, Tredegar is a vibrant town with a unique history. The town has been in existence for over 200 years and its past has been shaped by heavy industry, particularly iron and coal. In the 1800s, Tredegar was a beautiful area amongst forested hills with a few scattered farming homesteads. With the growth of the iron industry and the creation of the Tredegar Iron Company (TIC) in 1799, Tredegar turned into a 19th-century boomtown.
Treforest 
Treforest Industrial Estate,
Pontypridd,
CF37 5UR
Set in the beautiful Welsh countryside approximately 20 minutes from Cardiff, Treforest is historically connected to the mining of tin plate, dating back as far as 1835. Today, the town is better known for its links to the University of South Wales and this relationship dates back to 1913 when the School of Mines was originally established.
To learn more about South Wales in general please visit the Sigma guide to relocating to South Wales.
Career development opportunities 
As a leading pharmaceutical business PCI is in a position to offer a wide range of career development opportunities. Over the years Sigma Recruitment has personally seen candidates enter the company at entry-level and then progress up the career ladder with PCI. IF you'd like to explore careers options at PCI pharma please submit a CV.
Culture
The culture at PCI is fast-paced, dynamic and customer focussed.
Sigma Recruitment and PCI Pharma Services
Sigma Recruitment has been working on jobs at PCI Pharma Services for many years,  Sigma started recruiting for the Bridgend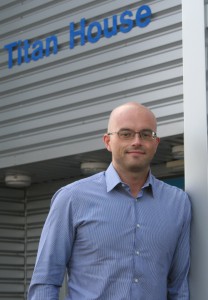 "I started recruiting for the organisation in 2005. I have personally seen candidates that I have placed progress from graduate level through to project management positions. Over the last 10 years, I've been impressed by the companies continual investment and expansion" Rhys Williams, managing director of Sigma Recruitment Ltd. You can find out more about Sigma Recruitment in Cardiff here